STILL DREAMING PERFORMANCE Kilo Kish, Ray Brady, Morgan Amirah Burns
Friday, October 14, 2022 | 11:00pm - 12:00am
A live performance which expands on the ideas in American Gurl through movement and spoken word. The evening will feature a 3-part piece by Kilo Kish and music producer and composer, Ray Brady, and a dance collaboration with Morgan Amirah Burns (currently a grant recipient of the Merce Cunningham Trust).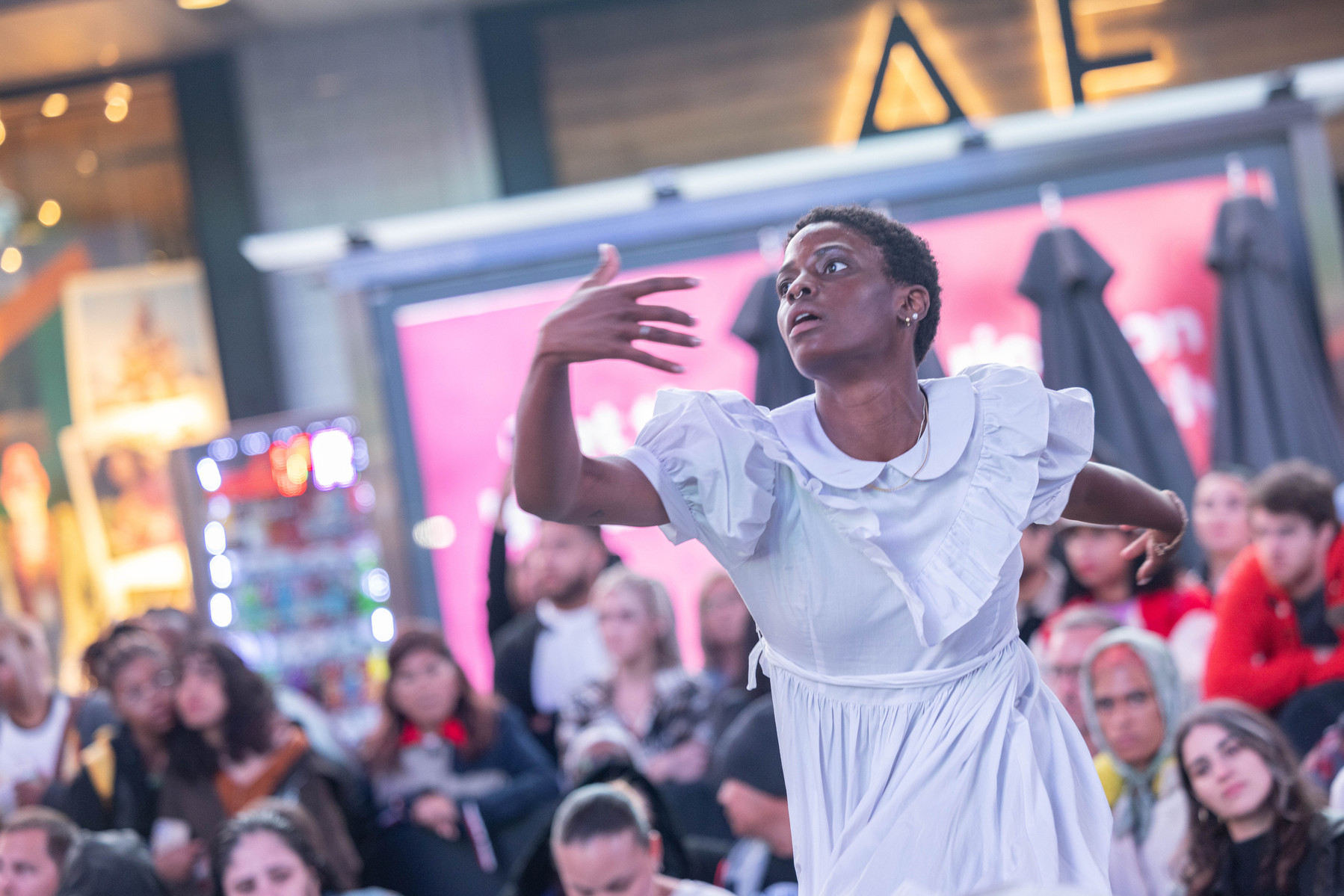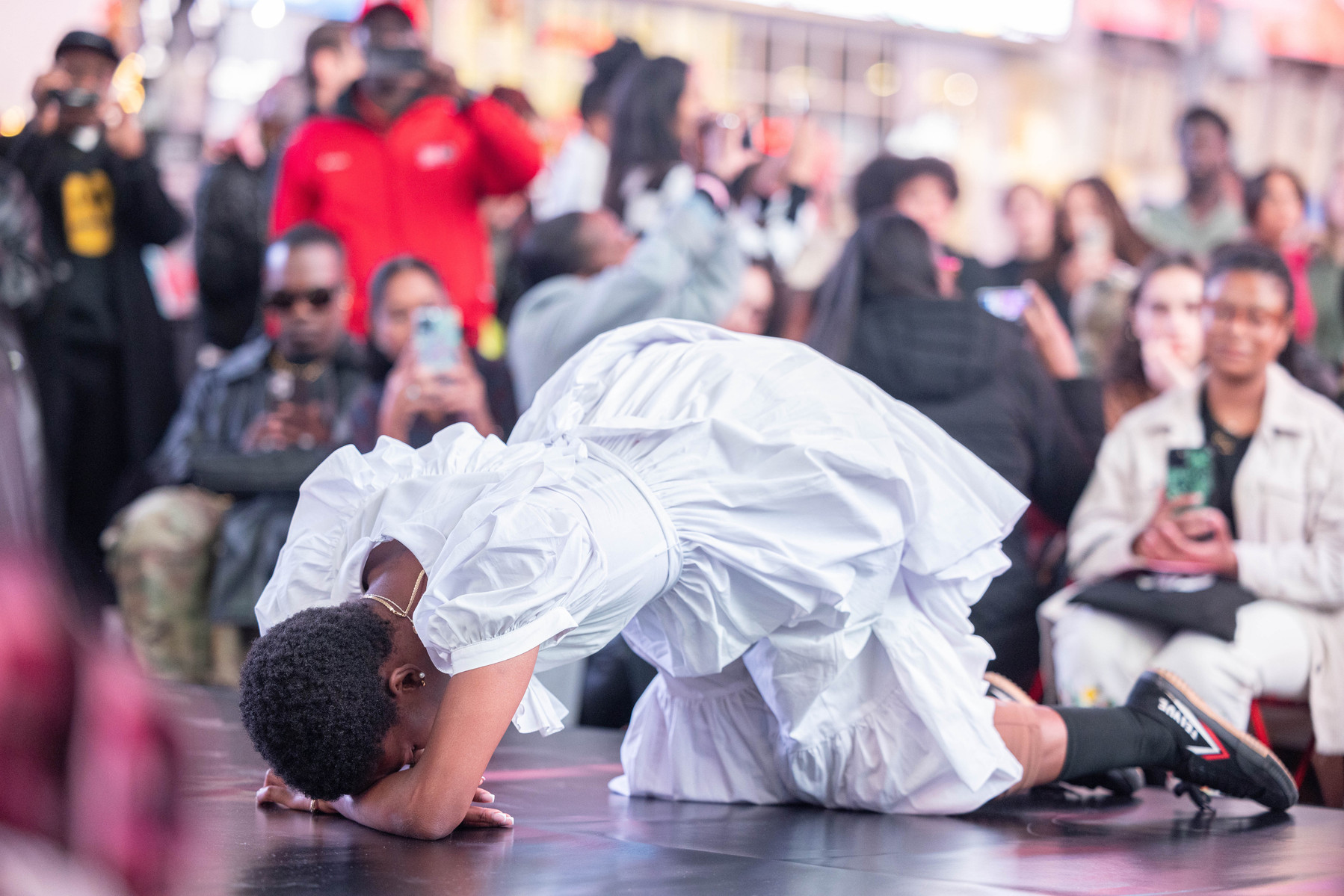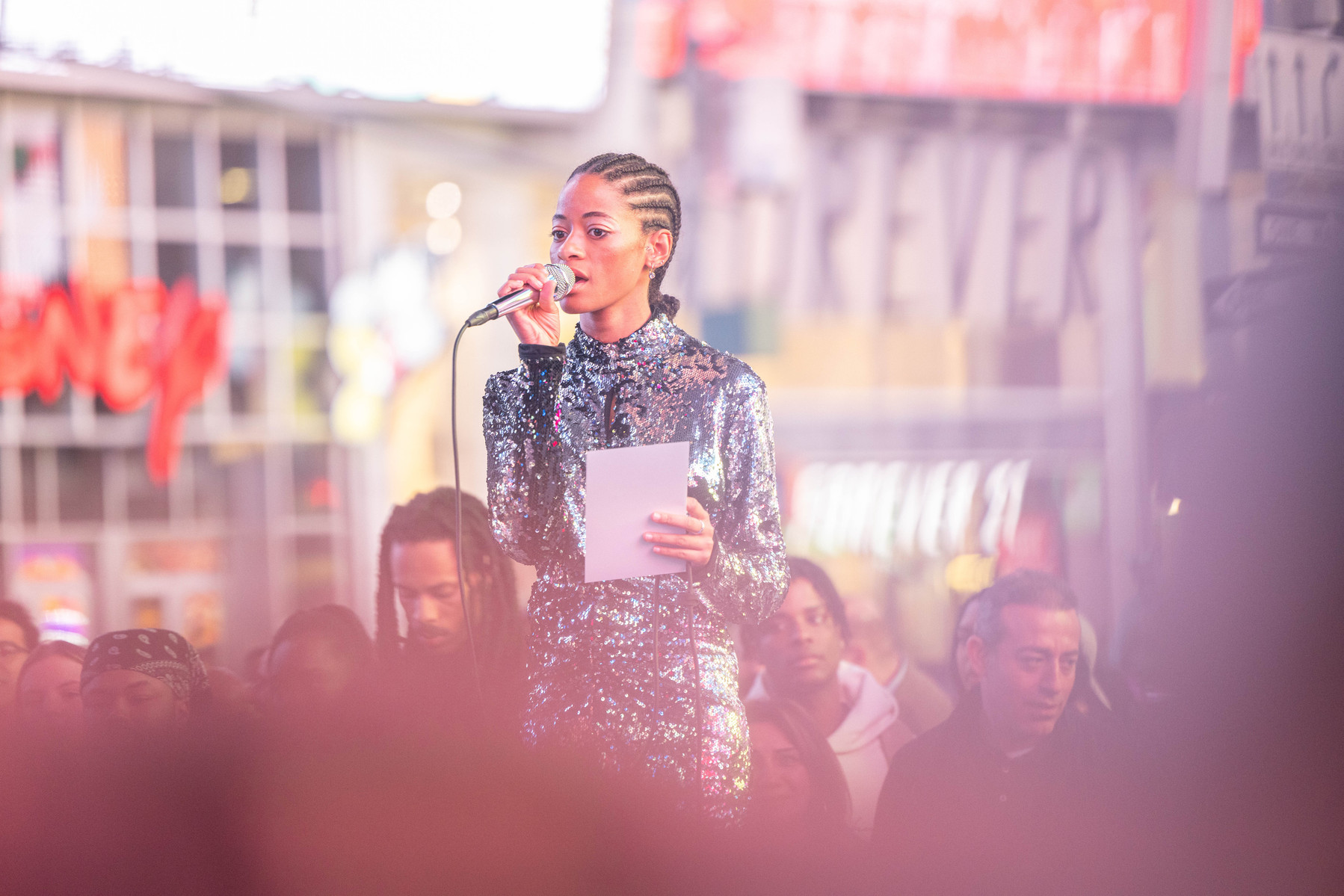 TSQ ARTS MIDNIGHT MOMENT: AMERICAN GURL
October 1–31, 2022 | Nightly 11:57pm – 12am
Every night in October, multi-hyphenate artist and performer Kilo Kish brings a new kind of Americana to the billboards of Times Square. Kish's Midnight Moment American Gurl fuses pop culture, camp, and fantasy into a video work that centers the artist within conventional notions of the American Dream.

Assembled through the artist's personal collection of vintage travel postcards, Kish collages animated vignettes with backdrops emblematic of American tourist stops, ranging from farmhouses and iconic bridges to resorts and airways. Central to each composition is the artist herself, resulting in a series of moving selfies that collapse space and time — complete with sumptuous costume changes, props ranging from ice cream cones to feathered fans, and wish-you-were-here vibes from her fictional, faraway places.

"With these pieces, I am interested in exploring how we can reimagine the American dream to include women of color along with our hopes and desires. These moving images represent the intersection of our past and present, exploring new ways of dreaming through their fusion."

— Kilo Kish
American Gurl creates a visual bridge from the past to create expansive musings on the future, wielding the ever-persuasive powers of art and consumerism in the center of Times Square.

Midnight Moment is the world's largest, longest-running digital art exhibition, synchronized on over 90 electronic billboards throughout Times Square nightly from 11:57pm to midnight. This year, Times Square Arts is celebrating the ten year anniversary of the Midnight Moment series with a roster of all women and femme-expansive artists until April 2023.
American Gurl was created in collaboration with Matt Cowen, Ashley Furnival, and Rachel Graves.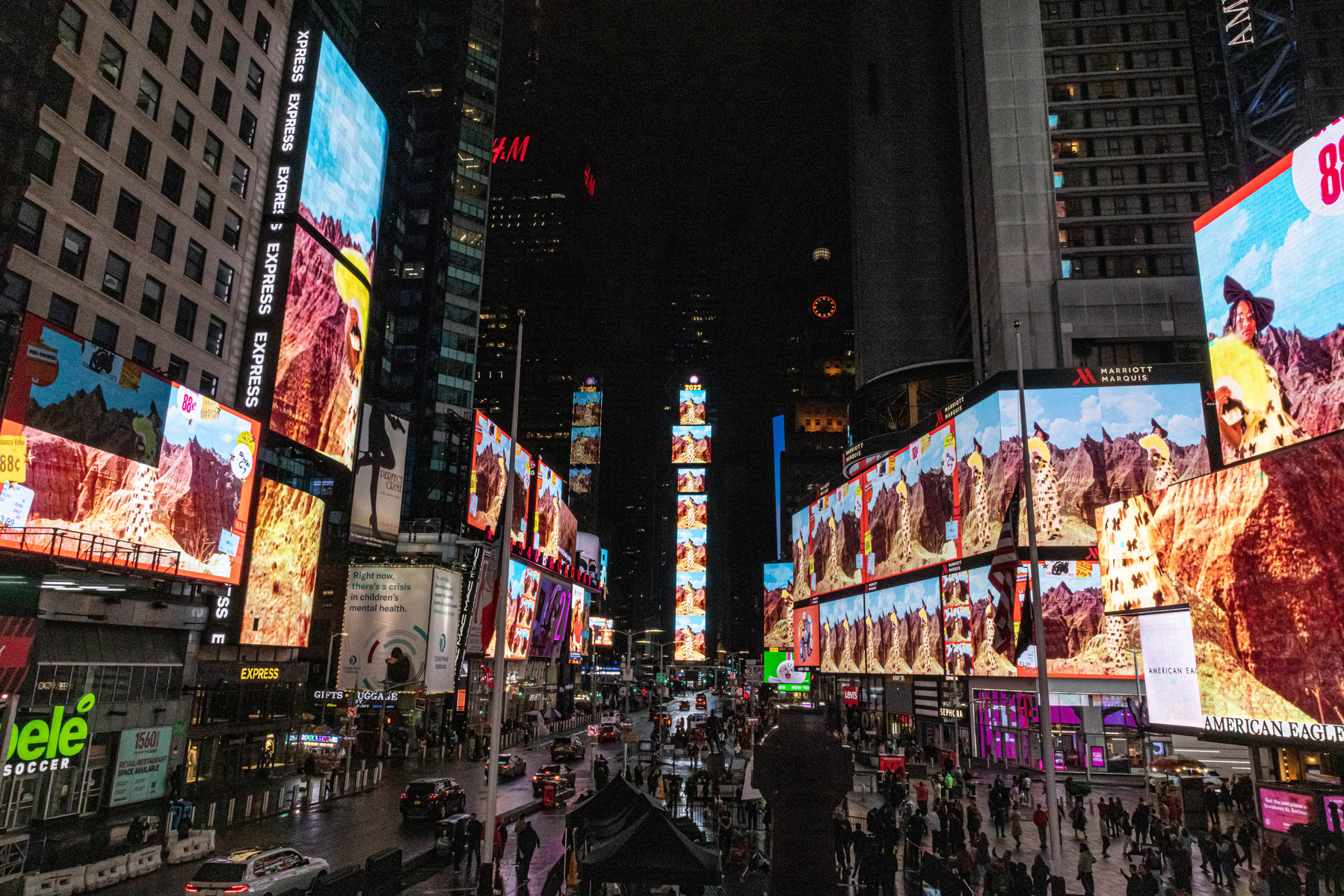 BLESSED ASSURANCE:
a dream that I had
Nov. 15th - Dec. 15th, 2019
An exhibition examining the interactivity between the spiritual and creative.
Kilo Kish explores the sacrificial nature of the artists' path. Opening on November 15th, this show marks her second solo show at HVW8 Art + Design Gallery Los Angeles.
The show features a 3-channel film euphoric featuring artist interviews and the revelations that come from creative practice.
"When I started interviewing the artists, I was so inspired by their willingness to suffer for a calling they found pure. Their audacity made them saintly to me. I wanted to explore belief in one's art and the way it relates to religious faith and spiritual calling. Creative practice almost becomes a religion. And I think, through it, you become closer to God."
The show will feature an interactive "audio-visual room of the mind" where visitors become a part of the creative process.
The title of the show BLESSED ASSURANCE comes from a hymn. "This entire show came to me in a dream. I find it intriguing to create a physical space from a mindset and an openness that I feel so connected to as a driving force. I'm happy to explore the act of making as its very own reward. Its very own promise and certainty."
There's a sparkling sculptural altar that represents all creative vision, belief, and worth created through the work. "It is the embodiment of unattainable perfection. Creatives are constantly running towards a promised land that is somehow always out of reach."
MOTHE x UO HOME
URBAN OUTFITTERS SPACE, LA, 2018
Collaborative music exploration experience using sounds and samples from the mothe EP.
a moth grows in secret
without fanfare
without adoration
without incubators
and field trips
with no tapping on the glass
without beauty without color
and in silence
at the same time
with the same wings
with the same bit of energy
without a chip
a moth opens itself
in a world of
beautifully finished things
still neutral and gelled
conjuring its ways by night
ever attracted
ever unnoticed
with some slight allowance
a moth flies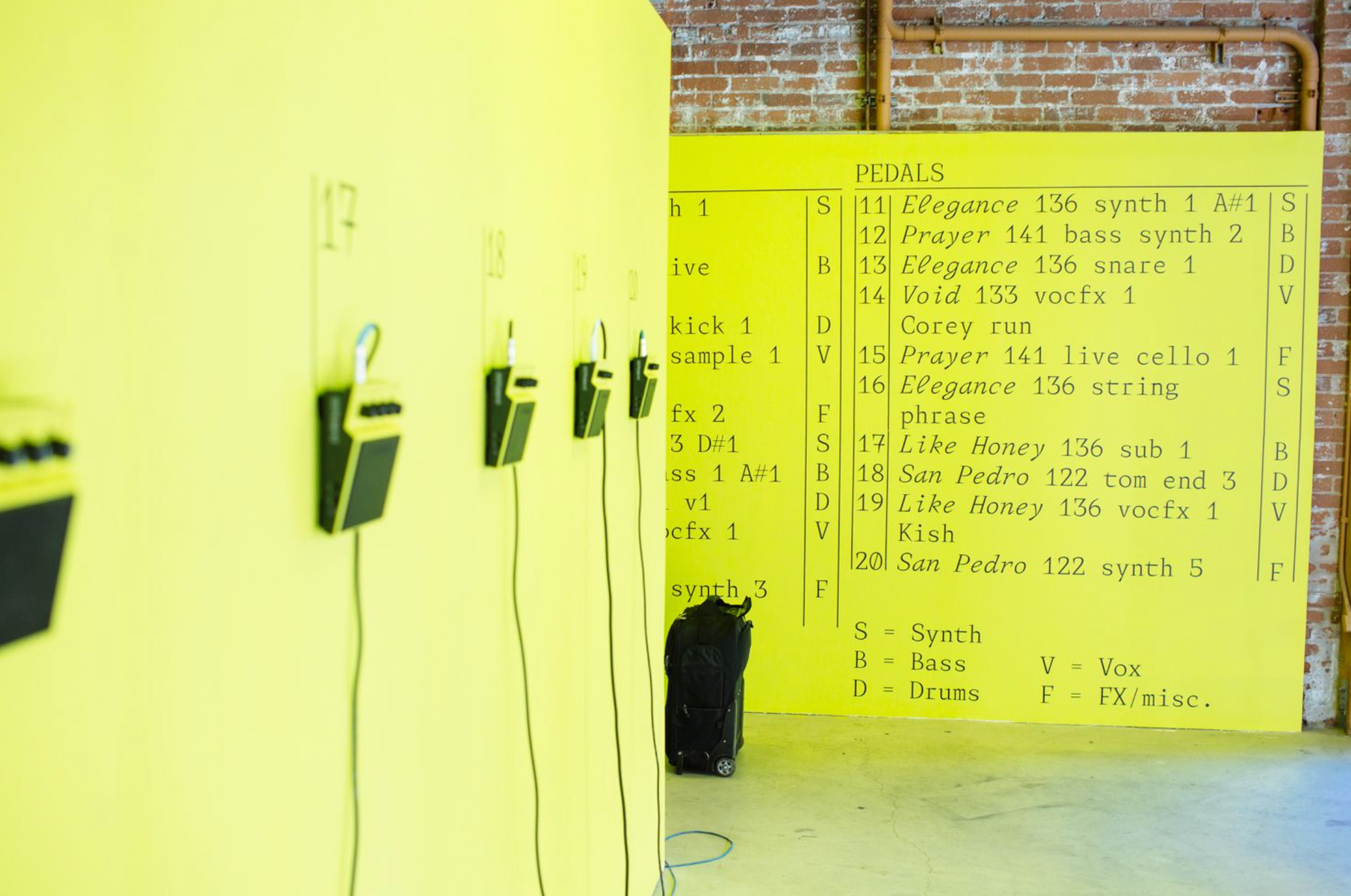 REAL — SAFE
July 7th - August 13, 2017
HVW8 Gallery is pleased to present Real — Safe a multi-medium collection of installation works by Los Angeles based artist Kilo Kish. Through film, performance, and immersive soundscapes Kish aims to create the fabricated nature of our online interactions in real life. The exhibition explores the poles of reality, which she has deemed hyper-reality, perceived reality, and actuality. Her performance installation confronts our need for personal space in public and freedom online. Through strategic musical composition and timing, she tests comfortable and uncomfortable forms of attention in public.
In addition to the performance installation, various film-works created in collaboration with photographers Sam Massey and Emmanuel Olunkwa will be on view in the adjacent gallery. These films allude to similar subjects on her debut LP, "Reflections in Real Time", including the relationship between technology and our emotional wellbeing. These films reflect mundane moments transformed to grandeur through social media and online interaction.
Real — Safe softly surveils the curatorial labor of the viewer in self-presentation, performativity, and self-importance, and reciprocates the exchange value of that virtualized selfhood back to the reader. An exploitative embrace that creates a loving singularity between past object, present subject, and future context, Real — Safe accelerates past the ninth circle of self-referential hell and triggers blissfully blasé consensual appropriation.